RTS has hired the Center for Urban Transportation Research to help conduct a study to evaluate the feasibility of implementing a bus rapid transit service in the following corridors:
• SW 20th Avenue/SW 62nd Boulevard
• University Avenue/Newberry Road
• 13th Street (53rd Avenue to Williston Road)
• SW 23rd Terrace and SW 35th Place
• Archer Road (from Tower Road to SW 13th Street)
• Depot Avenue (from SW 13th Street to Waldo Road)
• Waldo Road (from Depot Avenue corridor to Airport Industrial Park)
• Hawthorne Road/SR 20 (from Waldo Road to SE 43rd Street)
CLICK ON MAP TO DOWNLOAD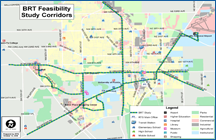 We would love to hear your comments and suggestions about this project! Please visit our Public Involvement page to give us your thoughts.
Continue to check back for additional updates.