RIDER INFORMATION
---
RULES TO RIDE BY
For first-time riders, here are a few rules of the road.
---
Carts, strollers, luggage and oversize backpacks are allowed as long as they are able to be folded, stowed or personally held (setting in adjacent seat is not proper) without blocking aisles (FDOT Reg. 392.62). If items block the aisles or cannot be properly stowed, then service may be denied.
---
Riders shall maintain appropriate, reasonable personal hygiene. If riders have offensive odor, open or seeping sores or are leaking bodily fluids, for health and safety reasons, RTS can refuse service until the situation has been contained or corrected.
---
Personal belongings are the rider's sole responsibility. Only those items that can be personally managed by the passenger and his or her PCA or escort will be transported. Passengers may not bring objects on-board an RTS vehicle which block an aisle or stairway or occupy a seat, if to do so would cause a danger to or displace passengers or expected passengers. Keep in mind that this is a shared-ride service and space is limited. Grocery store carts are not permitted on vehicles, but you may bring packages on-board in a personal two-wheeled, collapsible cart. If you are bringing a cart with you on an RTS paratransit vehicle, let the reservationists know when you request your transportation.
---
Please remember to take all your belongings and report any suspicious packages or activity to the driver immediately.
---
Be at your bus stop five minutes before the bus is scheduled to arrive. When you see your bus approaching, stand by the bus stop sign, that way our drivers will know to stop and pick you up.
---
Help us stay on schedule by having the exact fare, your pass, ADA card, Gator 1 or SF ID ready when the bus stops and the doors open. As you board, just show your ID card or pass to the driver, or drop the correct fare into the farebox. Remember, bus drivers don't carry change, so you'll need the correct fare.
---
Check the electronic destination signs on the front and sides of each bus to make sure you're boarding the right one. (We'd hate to take you somewhere you don't want to go.)
---
Feel free to bring your radio, CD, tape player, MP3 or iPod. Use of headphones is required, and the music must not interfere with the bus operator and/or other passengers. (Everyone loves music, just not as loud as you do.)
---
Please do not leave newspapers or beverage containers on the bus.
---
Eating and smoking are not permitted on RTS buses. (Imagine the mess.) Beverages are allowed, as long as they're in a securely covered drink container as approved by RTS officials. Sorry, no styrofoam cups.
---
Please be considerate of others and keep your feet off the bus seats.
---
Buses move, sometimes unexpectedly. Please remain seated, or if you have to stand, hold on to a support at all times.
---
No pets are allowed on RTS buses unless they are in a carrier. Service animals are allowed.
---
Children under 45″ in height ride free when accompanied by an adult.
---
As the bus approaches your destination, pull the buzzer cord or press the bar located above the windows. This lets the driver know that your stop is coming. Try to do this about one block before your destination so the driver can make a smooth stop.
---
For your safety, please exit through the rear doors and step clear of the bus. After exiting, do not cross in front of the bus. Wait for traffic to clear before attempting to cross the road.
---
Passengers should dress properly to ride the bus. This means shirts, shoes and pants are required. Light colored clothing should be worn at night for visibility.
---
Don't forget to take your things with you when you leave the bus. We try to return as many items as we can, but RTS is not responsible for items left on the bus. If you lose an item, call (352) 393-7850 to reach Lost & Found. Everything turned in from an RTS bus is available to be picked up Mon. – Fri., 8:00 a.m. – 5:00 p.m. (except holidays) at 34 SE 13th Road. Lost articles may not be available for pick up until the following day. Items except for Gator 1 and SF ID cards are held for 30 days. Gator 1 ID cards will be turned in to the Reitz Union ID office every Monday. SF ID cards will be turned in to the Santa Fe ID office every Monday.
---
On each bus, you'll notice several seats near the front designated for use by the elderly and people with disabilities. As a courtesy, please keep these seats open for those who might need them.
---
Passengers whose wheelchairs exceed the standard parameters will be required to use the paratransit service. The Americans with Disabilities Act (ADA) defines a "mobility device" as a wheelchair that does not exceed 30 inches in width and 48 inches in length measured two inches from the ground, and does not weigh more than 600 pounds when occupied.
---
For the safety of our passengers, when boarding, riding and alighting the bus, only one person is allowed in the wheelchair or scooter. Passengers in a wheelchair or scooter traveling with children who are unable to board the bus without assistance should travel with a PCA. Service may be refused for passengers who do not comply with this policy.
---
Please feel free to use your cell phone while on the bus, however, your conversation should not be so loud that it interferes with the bus operator and/or other passengers. Remember, everyone is not interested in your conversation.
---
We thank you for your patronage and helping our drivers stay on schedule by following the above rules.
---
BICYCLE PROCEDURE & INSTRUCTIONAL VIDEO
You can take your bicycle with you anywhere RTS goes! Most RTS buses have bike racks on the front that hold up to two bicycles. If you wish to use the bike rack, signal the driver that you are going to the front of the bus. You will be responsible for loading and unloading your bicycle.
---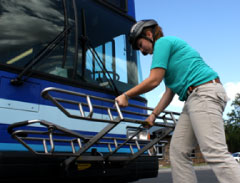 1. Pull up on the release and lower rack.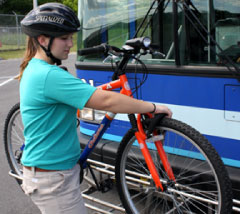 2. Place bike wheels into the slots labeled "front" and "rear." Pull out bike support and lift it over the front wheel. The spring in the arm will keep your bike secure while the bus is moving.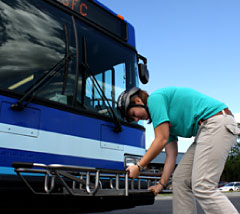 3. To unload, release support arm and lift bike from the rack. Return rack to the upright position.
---