OTHER SERVICES
---
Gator Aider
UF Gator Football Shuttle available during Fall Semester
SEE BELOW FOR NEW UF BAG POLICY
RTS' Gator Aider Shuttle Does the Gator Walk
Only $10 per game or $50 for the season.
Regional Transit System offers the Gator Aider service that drives you and your friends right to the stadium for football games. Don't deal with the parking, walking or hassles!
Single game tickets may be purchased only on game days at each Park-n-Ride location. Season passes may be purchased on game days at each Park-n-Ride location or pre-purchased at the Rosa Parks RTS Downtown Station for $50 – for a savings of $20. The Rosa Parks RTS Downtown Station, 700 SE 3rd Street, is located at the corner of SE 3rd Street and Depot Avenue (352) 334-2600.
Butler Plaza Transfer Station  for $50 – for a savings of $20. The Butler Plaza Transfer Station, 4231 SW 30th Avenue.
There are six convenient Park-n-Ride locations to choose from.
---
Celebration Pointe – Enter North bound SW45 St. off Archer Road (The Celebration Pointe Entrance)  Left on to SW  32nd. Road until you get to the park and ride lot.  . Google map
---
SW Downtown Parking Garage  Buses will load on the corner of SW 2nd St. and SW 1st Ave. Downtown Parking Map 
$1 per hour: after 6 p.m. it becomes a $5 flat rate.  You can download the app or pay online at  https://ppprk.com/park/ or visit the website for more information http://www.gvilleparking.com/mobile-parking/
---
The Hilton UF Conference Center at the corner of SW 34th St. and Hull Rd. Buses will load at the UF Park-n-Ride canopy on Hull Rd. west of the Conference Center. Google map
---
Oaks Mall south parking lot behind Macy's. Google map
---
Haile Plantation at the Village Center, outside Sweet Paws Bakery. Google map
---
Tioga Town Center on W. Newberry Rd., outside World of Beer. Google map
---
Post-game pick-up buses are located near the intersection of Stadium Road and Gale Lemerand Drive.
Download this map in PDF format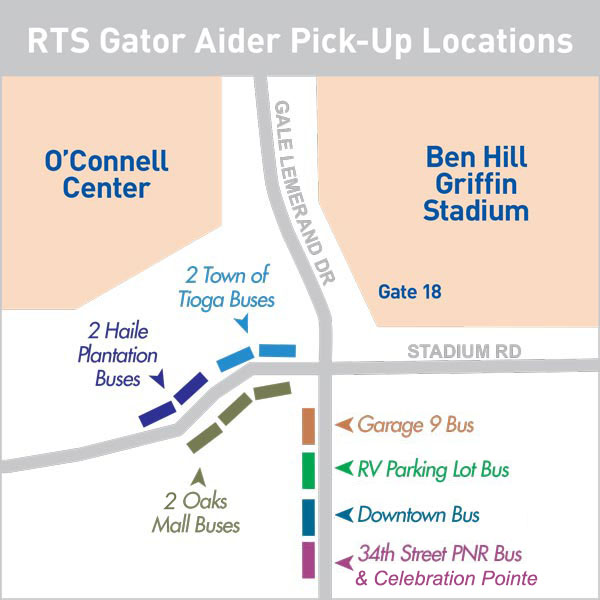 When going to the game, the service begins three hours before each UF home game, and the last bus departs ten minutes before game time. Coming from the game, returning buses start at the beginning of the 4th quarter and run through the first hour after the game. Buses do not have a set timetable, they leave when full and return.
The Gator 1 ID card is not valid. Please note, during nighttime UF football games, Later Gator service will begin one hour after the game ends.
---
University of Florida Football Clear Bag Policy
In the interest of fan safety, the University of Florida Athletic Association will implement a new clear bag policy for the 2016 football season.
Read here for details.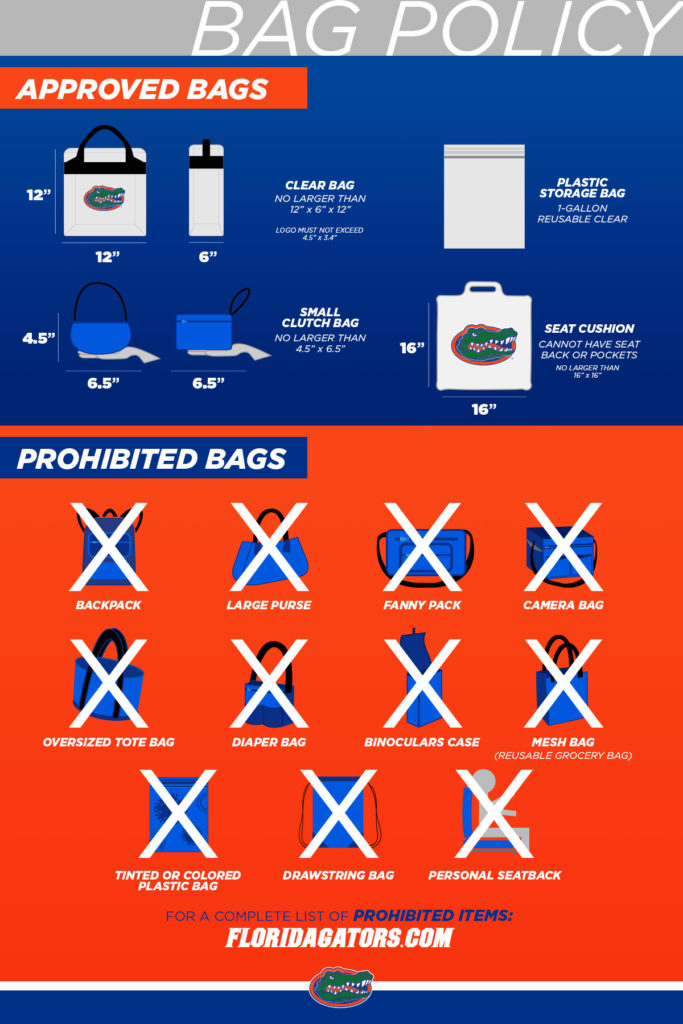 ---
---